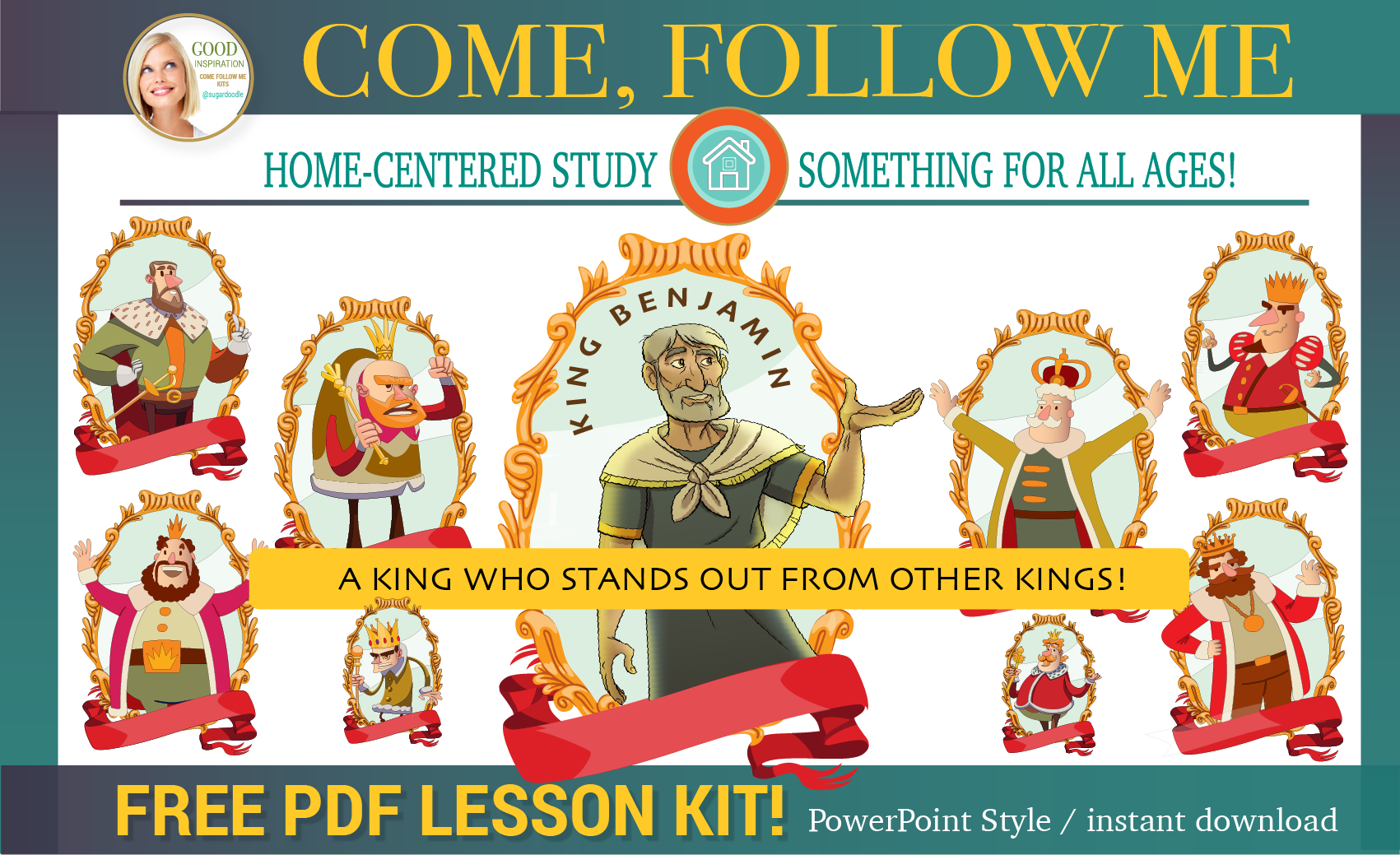 This Week's Come, Follow Me – lesson is HERE! King Benjamin, Mosiah 1-3. This lesson is one you can use at home or with extended family on Zoom.
REMEMBER!  This is a "NO NEED TO PRINT" type of lesson!  You simply gather your family around your computer and let our NEW – "VIRTUAL TEACHER, LEADER-READER" kit do the teaching!
HOW IT WORKS:  You scroll down to each new slide and answer the prompt questions, do the activity, or read the designated scriptures… TOGETHER!
You take TURNS LEADING the discussion on the slides and READING the scriptures posted on the slides… hence, why we call it a Virtual Teacher, "LEADER-READER" kit! We suggest that you have your older children lead and read as much as possible so they develop their leadership and teaching skills!
This KIT is all about helping you get more engaged with the doctrines and principles as a FAMILY, during your Come, Follow Me Study.  Think of it as a fun and engaging enrichment, an additional teaching lesson to this week's gospel study.
The printables and worksheets then help back up the concepts from the kit PLUS we make them beautiful so if you want you can decorate your teaching area in your house each week with the new lesson prints!  This keeps the lesson's main teachings, sticky on their minds as they see the prints throughout the week!  You can purchase them for $2.00 at our Etsy shop.
DOWNLOAD THIS LINK HERE!
COME FOLLOW ME KING BENJAMIN YES OUTLINED 100
DOWNLOAD the printables HERE!
https://www.etsy.com/listing/795769467/come-follow-me-for-individuals-and?ref=shop_home_active_1