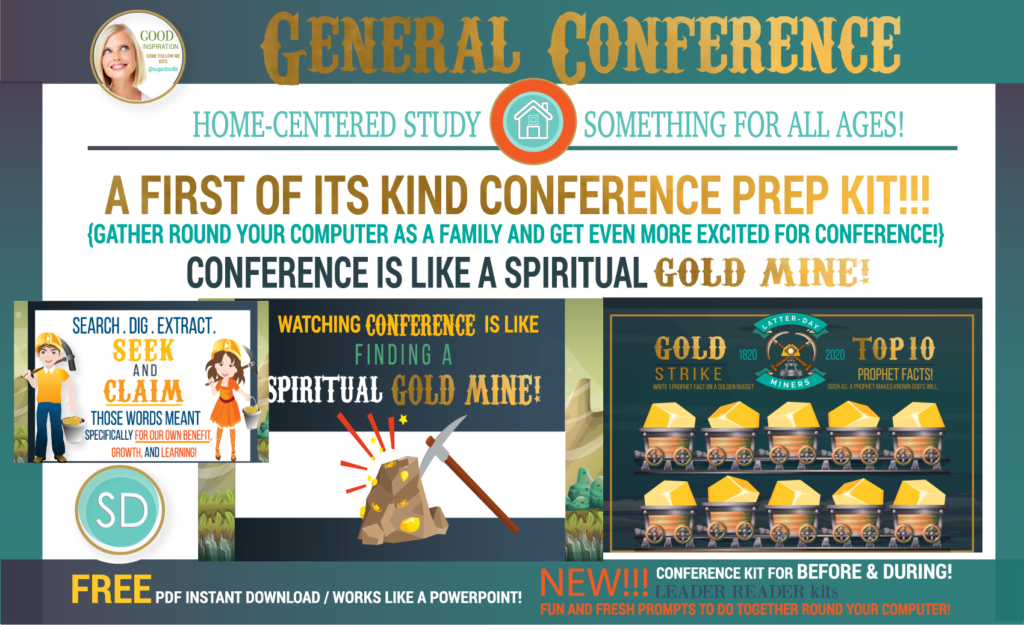 It's HERE! After several requests, we came up with a Conference Kit in our NEW "Leader Reader" format. It rolls like a Powerpoint and creates lots of family engagement!
THIS CONFERENCE KIT IS PERFECT IF…
You are a parent wanting a super fresh and very unique way for your family to PREP for Conference… If you are a Primary leader or teacher and want to email your ward family or Primary class a way to get ready for Conference… If you are married to a member of the Bishopric and they are looking for good ways to connect and get your ward excited for Conference!
It's a BEFORE Conference kit and it has printables coming soon that help your family DURING Conference!
CFM MASTER CONFERENCE 2020 MINING FOR GOLDEN NUGGETS YES OUTLINED 100 copy DOWNLOAD THE KIT HERE!
IT TAKES A MINUTE TO DOWNLOAD BUT IT IS SOOO WORTH IT!
THE PRINTABLES THAT GO WITH THIS KIT WILL BE UPLOADED LATER TODAY SO CHECK BACK SOON!
ENJOY! April and the Girls at Sugardoodle and Good Inspiration